Yazd is a rich city. Both in wealth and culture. Because of prosperity of trading in 15 and 16 century, obviously merchants and landlords built mansions with gardens in their property. Climate situation and materials of Yazd are two factors that made architecture of this city, a good example to prove the skill of architects of Iran.
Earthen towers that remained safe for hundreds of years are voucher for this claim.
Gardens in the middle of the desert are predicates the knowledge of Qanat digging.
Wind Catcher towers of this city has word wide fame. You can find at least one in each mansion of Yazd.
Every inch of this city is a museum of Yazd architecture. Perhaps this is the reason that the entire city is known as a world heritage site by UNESCO!
As a rule, most of Yazd architecture of historical houses have considered a very high attention in preserve the privacy of their range. In fact, it is a way to guard the privacy of ladies of the mansion. It is for that very reason which despite of dense urban fabrics of the city, it is impossible to peeking other houses. It can only happen if the owner lets you.
The First thing that takes the eye is Koubes of doors. Each of them has different sounds when you beat them to distinct whether the person is women or a man.
Most of Yazd historical houses belonged to wealthy families and they had no limit to show their financial ability. Mirror works, parget works and rich architecture is quite detailed.
A big or small garden, pillars, pool and tall wind catchers are main sign of Yazd architecture.
Here Are Some of The Most Famous Historical Houses of Yazd.
The most famous historical house of  Yazd Belongs to 17th-century (Qajar Dynasty)Located in Fahadan neighborhood
Belongs to 17th-century century (Qajar Dynasty)
Located in Fahadan Boustan
Belongs to 17th-century (Qajar dynasty)
Located in amirkabir high school alley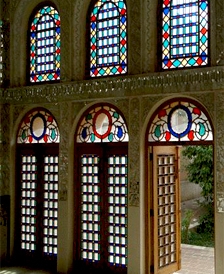 Belongs to 17th-century (Qajar dynasty)
Located in Fahadan neighborhood