We can say that Qeshm Island has more and less acted better in keeping traditions. 
This island is suitable for those who wish to feel the pure culture and traditional atmosphere of Iran south.
Local architecture and historical fabrications of Qeshm island are things to look forward too. 
Nature is another factor that makes this island very interesting. Many natural attractions can make your trip memorable. 
Palms, Sun, Sand and sea are best descriptions of Iran south. What if an old Persian village is nearby  too?
Laft  is a pretty small village in Qeshm island that  has a really amazing architecture. Wind Catchers of this village are like the characteristic attribute of it.
Many historical constructions exists in Laft village . Also this village has a good access to Harra jungles.  
If you are a architecture fan and enjoy sea sunset, make sure to visit this village.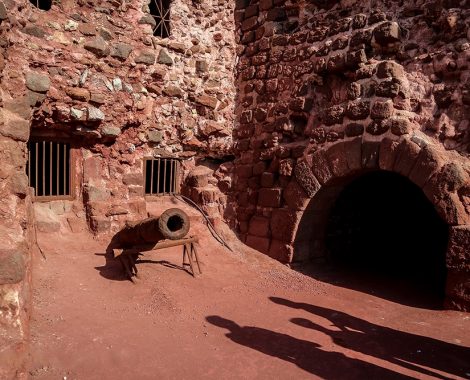 Portuguese castle is a memorial of Portugal colonialism in Bandar Abbas.
They had full control over Bandar Abbas and Strait of Hormuz for 110 years. This fortress is one of a few defences they had in Persian Gulf. 
Architecture and cannons that were left behind are worth to visit. It might be interesting for you that dirt and material of this castle is almost red!
Khorbas caves are one of many mysterious attractions of  Qeshm Island. No one knows for sure that what is the actual usage of this man made caves. 
Some say it was like a shelter to keep people safe of pirates. Some say it was a temple for Mitra worshipers. Even Zoroastrians say that this cave used to be a  ossuary.
Whatever the function of Khorbas cave, we can not ignore the beauty of it. When you are inside the cave, it feels like you are inside of a giant 
Cheese Pizza!
Salt cave is one of pretty  
Geology attractions of Qeshm. Beautiful salty wall of cave has over 560 million years old!
Salt of this cave has  medical usage and it is valuable.  There are  red  r
ivulets of salty water and it is really interesting! 
This cave is also one of the longest salt caves in the world with 6 kilometer identified path. 
Avicennia marina is a rare kind of tree. This uncommon tree has a very good trait. It lives in salt water and makes the fresh water! With any tide, their roots comes out of water in order to breath.
In Qeshm island, you shall see a whole jungle of this tree! Local people call it Harra jungle. This amazing jungle is in the middle of Persian Gulf and it is the 
Habitat of many kind of animals. 
To see this lovely jungle, you have to ride a boat. If you like birds and sea creatures, make sure to take your camera with you! 
A two million year old valley with a splendid view of stars! 
Local people believe that million years ago, a huge m
eteorite has clashed here and created this valley. 
Eyeful shape of rocks and spectacular view of the valley is breathtaking. 
Absent of  
Light pollution will give you a chance to take a good look on night sky.
There are some rumors  about this valley too. Check here to know more about it!
Grand Canyon is known to most of you. If you have seen it, you know  how amazing it is. 
ChahKooh can amaze you. This marvelous canyon is one of the most beautiful attractions of Qeshm. Depth of it is at least 100 meter.
Erosions of rocks which is formed by blowing of wind is quit pleasant to watch. You can find many interesting shapes can be seen.
Have you ever traveled Qeshm island? What was it like? We appreciate you if you share your experience with us!