Tehran Buildings Architecture
Tehran historical buildings are various in both architecture and function. Persian-European architecture of buildings is really interesting. It seems these buildings have souls and mind… they coquettishly call you to themselves. Tehran historical buildings have seen many wars and adversities, but they still stand fast. Join us in a walk through Tehran historical buildings and observe.
Ferdows garden includes a big mansion in middle of a garden. This complex was built by order of Mohammad Shah Qajar. Style of pools architecture makes them look bigger from far away. Mansion is real piece of work and it is quite charming. Trees with sound of water will make a peaceful day for you. There is also a café that can serve you well.
Name of this building really suits it! Time museum belongs to Qajar dynasty. Architecture and plasterwork of mansion is quite elegant. This magnificent mansion took 12 years to finish. Blue of the wall make it look like it is from a different dimension. Today this building is known as Museum of Time. There is also a famous café with a good atmosphere. Design of café is really match with the mansion and shall make some good memories.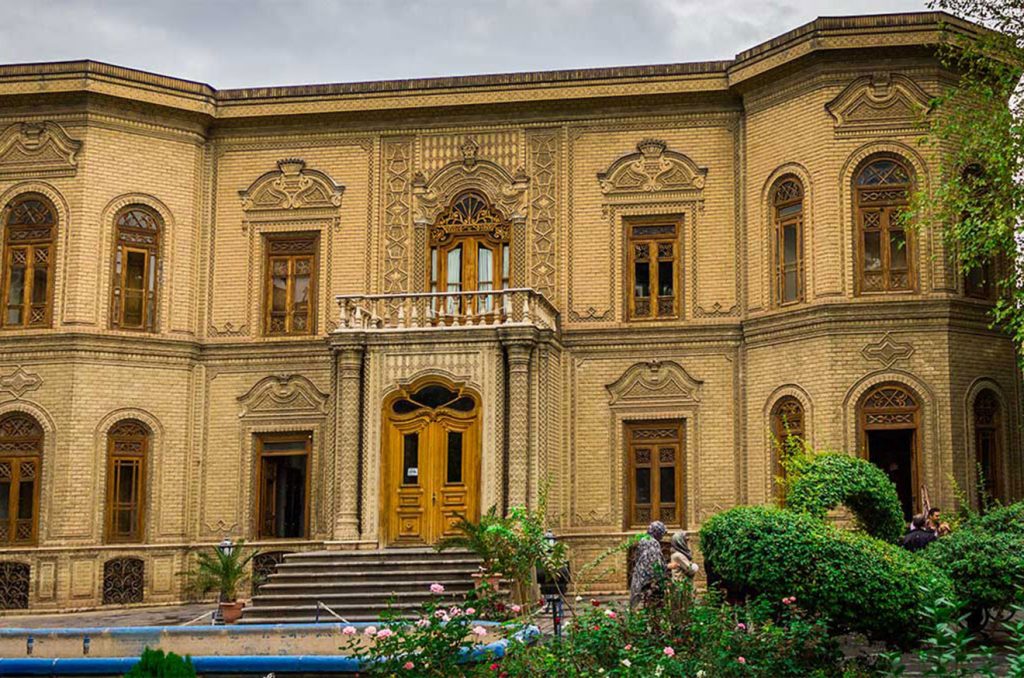 An amazing mansion which belonged to a noble family. Abgineh museum was actually house of Prime Minister Ahmad Qavam. Then it became embassy of Egypt. After a while, it turned in to a bank. Eventually Shahrbano Farah Pahlavi bought the mansion and made it a museum. This one of Tehran historical buildings has over two million visitors per a year!
Architect of the museum is Hans Hollein. He was inspired by Tachar palace and Persepolis which makes the architecture of it especial. Valuable objects from Elam era, Parthian Empire and Saljoughian dynasty is shown to public. Like most of Persian mansions, architecture and inner design of it is very artistic and beautiful.
Moghadam museum is a complexion of elegancy and harmony. Persian architecture and decoration of is admirable. Despite of old and valuable objects, the house itself is a museum of tiling and architecture.  Interesting thing about this complex is that you can find other countries style of architecture in it. A Japanese garden and medieval pillars. Peaceful atmosphere and magnificent shape of mansion is a good reason to visit it. Inner decoration shall make you speechless!
This Fire Temple was built in 1917 in Qajar dynasty. Adrian fire temple is place for worshiping and praying around fire. The most holy element in ancient Persia. Like most fire temples, it has a pool with cypress trees. Zoroastrians gather in this place and praise Ahora mazda. Architecture of temple is artful especially brick façade of it.  
Hassan Abad square is more like a nostalgia. This pretty square is a reminder of old Tehran. Tehran historical buildings are mostly located in this position. 30 Tir Street is near to hasan Abad square. Best time to visit this attraction is at night. You may enjoy delicious street food and watch the lights on the buildings of the square.